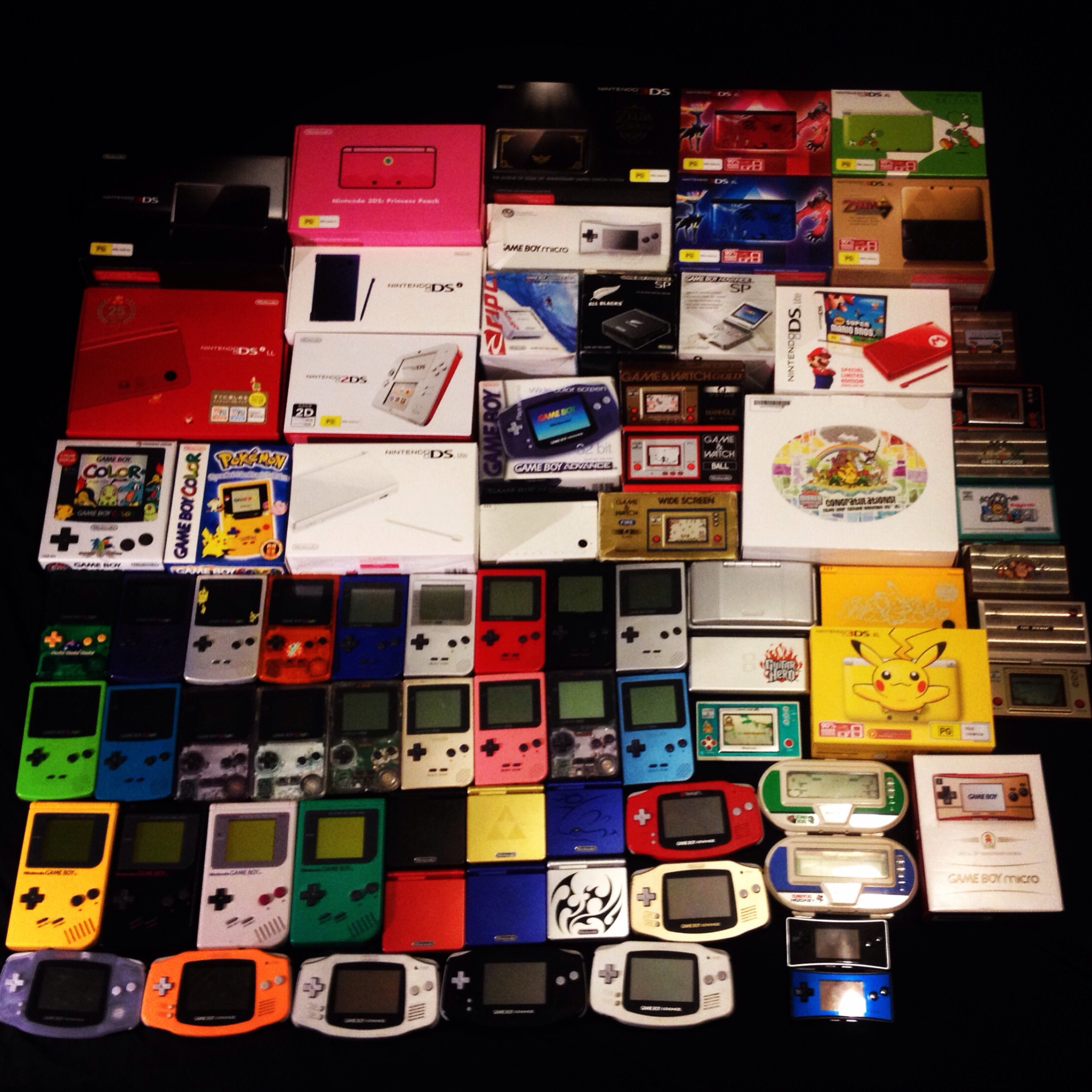 Here is photo I took recently for my Instagram of most of my Nintendo handheld collection including Game & Watch, Game Boy, Game Boy Pocket, Game Boy Light, Game Boy Color, Game Boy Advance, Game Boy Advance SP, Game Boy Advance Micro, Nintendo DS, DSi, DSiXL, DS, DS Lite, DSi, DSiXL, 3DS, 3DSXL and 2DS.
This photo shows almost everything (clear original Game Boy not pictured as I couldn't find it at the time / forgot to look for it) and shows only 1 of each variation (I have a few doubles).
The rarest items here include the Yellow Pokemon DSiXL prize from 2010 Pokemon World Championships (White box with colourful sticker on it, plus white console below it, removed for this photo) and the orange Turkish Game Boy Color which says Yedigun on it, which is promotional item for an orange soda like Fanta (no idea how many exist but probably not many). There's also the 1 of 1000 made Princess Peach 3DS consoles from Club Nintendo (only 50 in Australia).
A few other rare Pokemon items include the Kyogre blue GBA SP, one of my three Pokemon GBC special editions is a complete in box Pokemon Center Japan exclusive, a white USA Pokemon White version console (doesn't show up well in this photo, this design was not released in Australia). The Pikachu 3DSXL was limited to 100 units on the EB Games webstore plus a few places like Gametraders may have had some in stock, Critical Hit in Melbourne had some for sale too.
I also have a Zelda GBA SP, 3DS (unopened) and 3DS XL (which is the one I use for gaming on).
Some other unusual items are the Target exclusive Red (with Target logo) GBA from America, the Australian exclusive Ozzie Ozzie Ozzie green and gold GBC, Ripcurl and New Zealand All Blacks GBA SP consoles (both with box) Mario 20th anniversary GBA Micro (unopened), Mario 25th Anniversary DSi LL (Japanese XL) and Mario DS.
The Yoshi, Pokemon X and Y and Pikachu 3DS XL and most of the 3DS boxes are all unopened.
Nothing pictured is for sale.