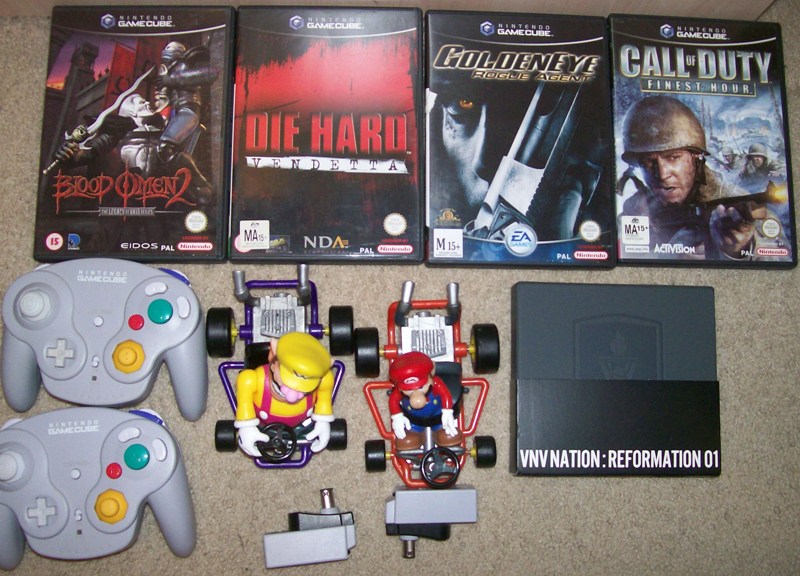 Four parcels arrived for me on Friday July 17th. One containing four Gamecube games – Blood Omen 2, Die Hard Vendetta and Call of Duty Finest Hour, they cost me $45 total inc postage from a member of PALGN, I haven't had much of a chance to play them but am aware they are fairly average games but I want to try and get all the Gamecube FPS games and I have most of them now.
The Wavebird controllers are wireless controllers for the Nintendo Gamecube, they use the little receivers below the Mario Kart toys to communicate with the Gamecube. I prefer using these to corded Gamecube controllers. My Wii is set up at my computer desk so when I have people over its really hard for us to play gamecube because the cords aren't long enough. Using the Wavebirds it is much easier, however the Wavebird controllers do not feature rumble, which may be a problem in some games. I now have a total of 3 Wavebird controllers. I got these together for $60 inc postage.
The Mario Kart toys are of Wario and Mario, they were $15 inc postage from PALGN as well, I always wanted these when I was younger, I used to look at them at the shops a lot and now I finally own two of them. They are not complete but for $15 I can't really complain. I'll probably do a blog post about these later.
The VNV Nation Reformation 01 is reall good new release from one of my favourite bands, it has a disc of remixes from their two most recent albums, a live album and a concert DVD. I got htis off ebay for about $30 total. The first one never arrived so the seller sent me another one. Luckily the 2nd copy arrived. The first one still hasn't turned up. I don't have very high hopes of it but luckily the seller had more than 1 copy so they could replace it. I'd have had trouble getting a refund otherwise I reckon.